Construction projects require a great deal of coordination, and especially so if the project is for a medical or dental facility with an array of specific requirements. We are proud to be part of the team that converted an existing vacant office space into a new dentist office. 
After a fire destroyed their building in Lusby in 2019, Tidewater Dental had to relocate. They selected a vacant space in a shopping center in Lusby, adjacent to an indoor play space we had designed earlier that year. We were teamed up with Colony Builders, a contractor we have had great success with in other projects, to design and build the new location for Tidewater. 
The first step was to prepare the design and construction documents, and submit them to obtain the permits. We documented the existing conditions of the vacant office space and prepared the first version of the design.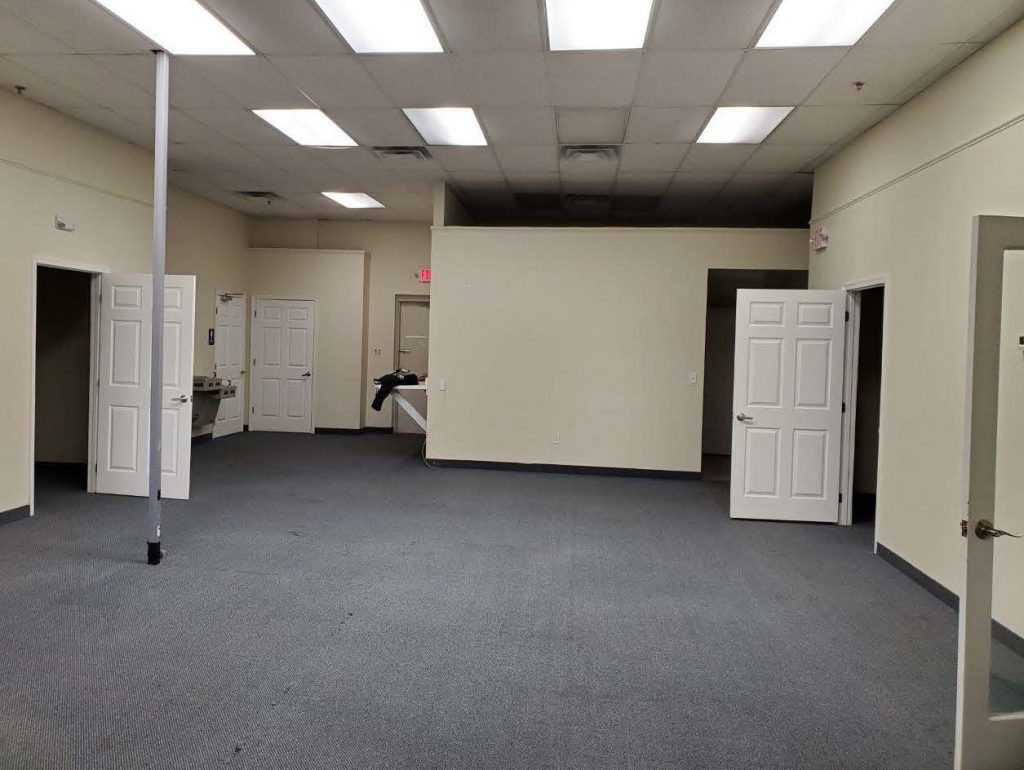 The team at Tidewater sent our layout to their equipment supplier, who then revised our layout based on the dental equipment specifications. We worked with the supplier to finalize the layout, which was then used to prepare the construction documents. The layout had to meet building, life safety, and fire code regulations, while conforming to the existing exterior entrance door locations to provide required egress, patient, staff, and service entrances, and existing window locations to provide natural lighting in the reception area. 
Each treatment room had to be large enough to accommodate the patient, doctor, technician, and equipment in an ergonomic layout to promote a safe, hygienic, and efficient workspace.  Additional support functions that needed to be built in  included a lab, sterilization room, doctors' workstations, a business office, waiting room, staff break room, public and staff restrooms, a consultation room, and an IT room. A mechanical room was also needed to house the equipment required for the special systems needed for imaging, IT, oxygen, and plumbing needed in order to perform dental work. We had to be creative and efficient to fit all of this into a 2,700 square foot space with existing plumbing, electric, and HVAC systems.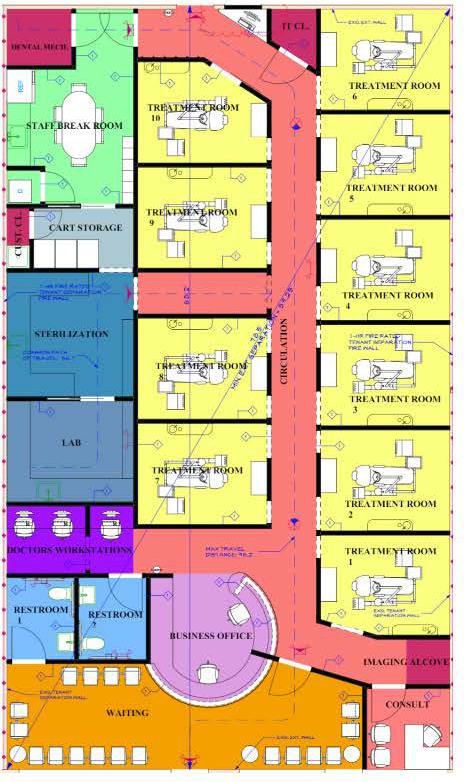 Dentist offices are intensive from an electrical system design standpoint as well. There is a lot of equipment – motorized chairs, x-ray machines, monitors – that have special power requirements and specific locations for connections.
Our team coordinated with the shopping center property management company and Lewis Engineering Associates, our MEP engineering consultant, to evaluate the existing systems and design new systems to serve the new functions. The floor had to be taken up to run under-slab drain and water supply plumbing, vacuum, compressed air, and oxygen plumbing. Electrical plans were developed to provide a system that would serve the specialized equipment. A new HVAC system was engineered and designed to provide a comfortable space for staff and patients.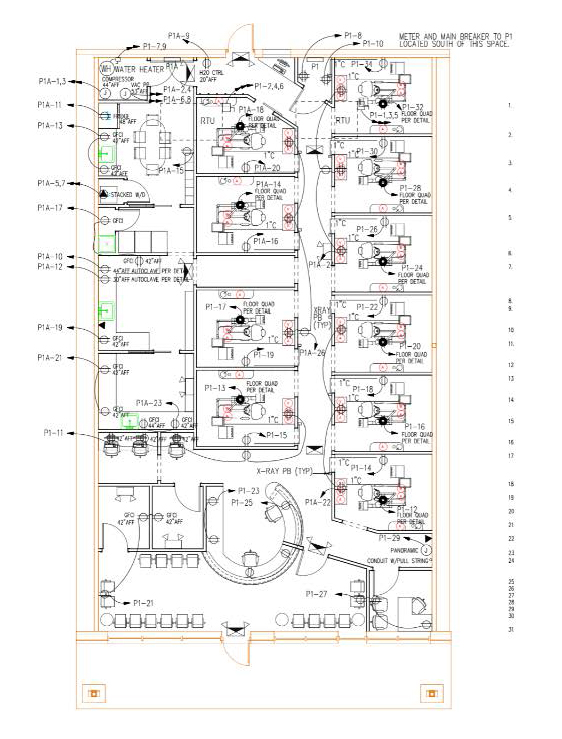 Branding was also important in developing this facility. In addition to all of the technical requirements, Patuxent Architects coordinated with the tenant to specify interior finishes for the space to make it look like a Tidewater Dental office. We prepared details to make sure that the spaces met ADA requirements, that the workspaces were ergonomic, and that the finished spaces were aesthetically pleasing and conform with the standards that Tidewater has set for their finishes.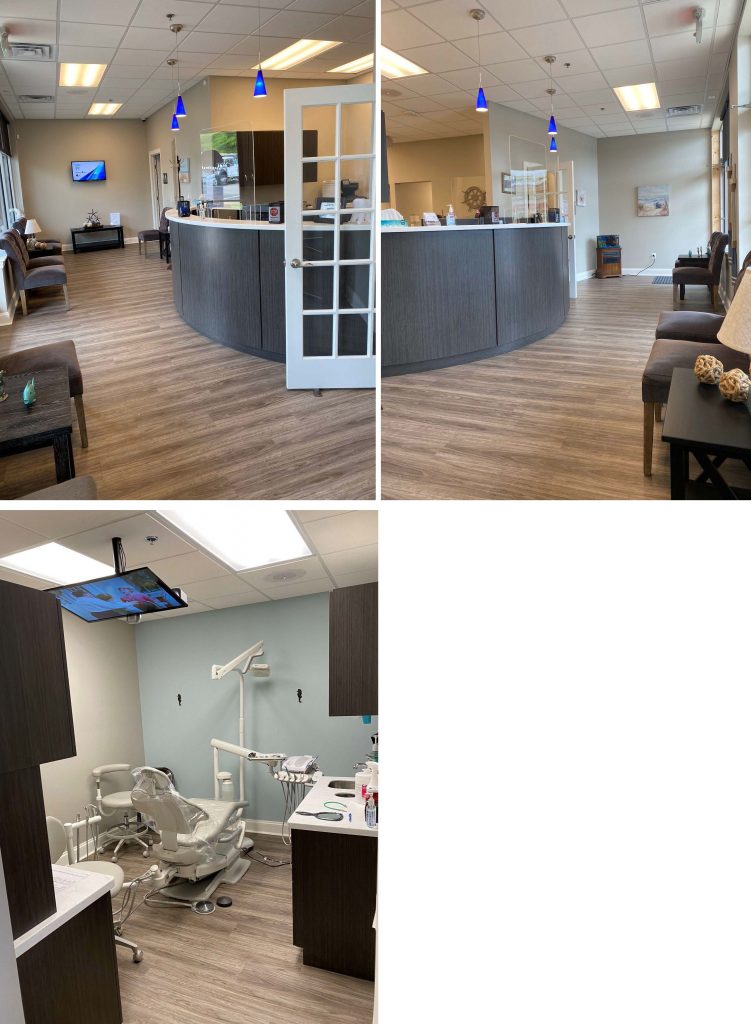 The plans prepared by our team and Lewis Engineering were submitted for a building permit with Calvert County Inspections and Permits. As part of the permit process, they are reviewed by various county agencies for building code conformance, and by the Office of the State Fire Marshal for life safety and fire code compliance. The plans were reviewed and approved by the various agencies and the building permit was granted without any issues.
Colony Builders used the prepared construction documents to demolish the existing interior, cut the concrete floor, and install the under-slab plumbing, erect new interior partitions, install new MEP systems, insulation, drywall, doors, windows, trim, finishes, flooring, cabinetwork, equipment, and furnishings.
The making of the new Tidewater Dental office included many players and moving parts. Patuxent Architects was part of a team that included the architect and his staff, the property owner/manager, contractor, tenant, tenant's consultants, engineering consultants, and county and state agencies. We strived to coordinate and work with these many participants to ensure that the new space was code-compliant, safe for public use, and exceeded the expectations of our client.