Oftentimes our clients will come to us looking for solutions for their existing homes. They love where they live and want to make it work better for their lifestyle. Designing ways to improve upon our clients' cherished homes is an area that we are passionate about.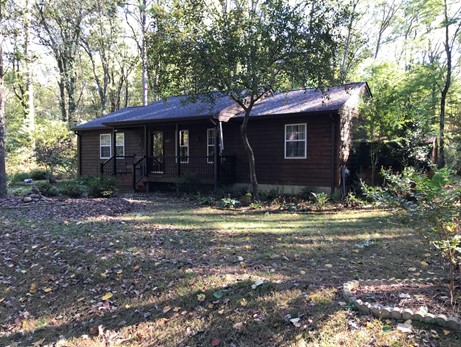 Our clients, Jeff and Rose, wanted to add more living space to their 1,200 square foot home in Drum Point. The back of the house included a 300 square foot sunroom and a 550 deck, but the sunroom was not offering them the views and living space they were looking for. Additionally, they wanted to update the kitchen and add on a master bath, closet, and laundry room.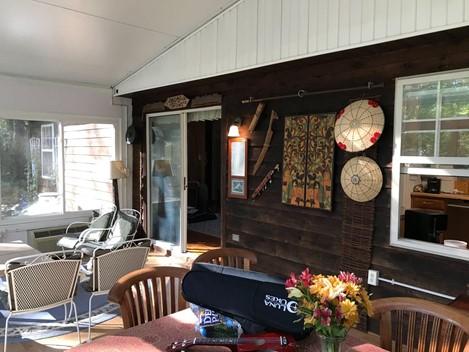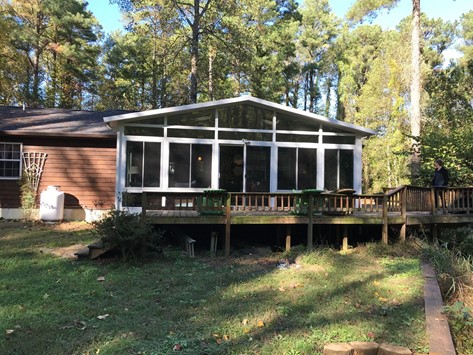 The property presented a couple of challenges. Since the house is located on the edge of a cut for the old Baltimore and Drum Point Railroad, we had to take that cut into account when designing the addition. We also had to work around the existing septic system in the backyard and ensure the design provided the required clearance.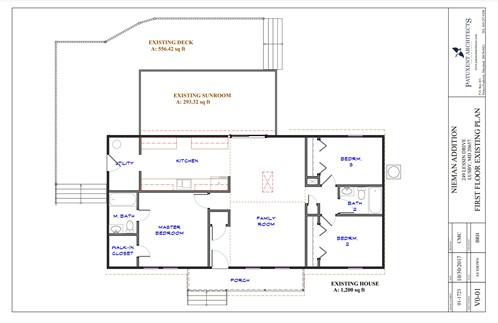 The plan ultimately included two separate additions. The existing sunroom was replaced with a 612 square foot great room, and we removed the wall that separated it from the kitchen. The great room included vaulted ceilings featuring parallel chord truss framing and faux hand-hewn wood beams. We also included many windows to provide generous natural light and views of the backyard, as well as a fireplace to this new space.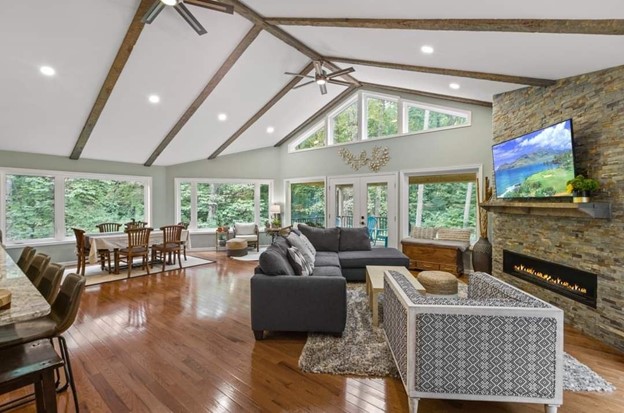 To incorporate the kitchen into the great room and give it the updates our clients were looking for, we redesigned the layout and gave it new cabinets and appliances as well as an island with seating facing out into the new great room. We included a beautiful hand worked wood beam and posts, as well as a pantry closet and utility closet.
The covered deck, located to the back of the great room, was over 200 square feet and included a tongue-and-groove wood ceiling as well as aluminum railings and synthetic decking.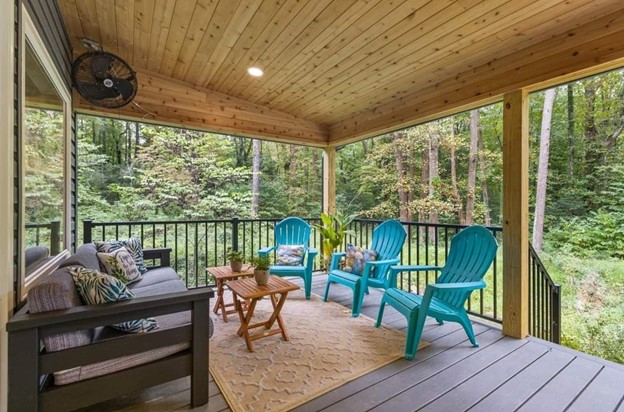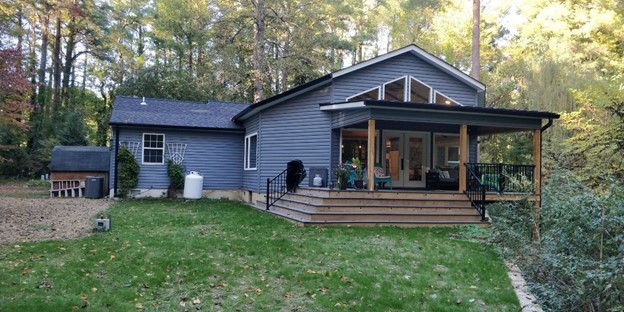 The second addition was on the end of the house, and it incorporated the new master bath and closet as well as a laundry room adjacent to the kitchen. We took the existing master bath and transformed it into a vanity area, while adding a water closet with a toilet and custom shower. The river stone accents and half wall with a glass panel transformed this once outdated master bath into a contemporary spa getaway.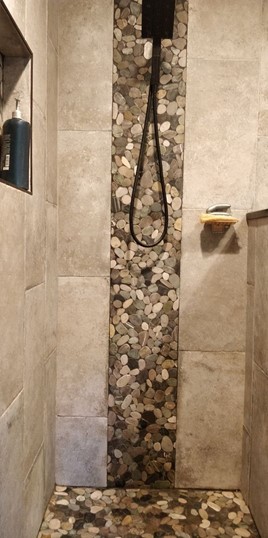 This project turned out beautifully and our clients were happy with the results. We were grateful to have this opportunity to remodel their house and transform it into their dream home.
Creating new design solutions, overcoming challenges, and exceeding our clients' expectations is what we do, and we are pretty good at it. Contact us today if you would like to discuss your home renovation or addition.